物件詳細
物件名
開発会社
エリア
フロア
総面積
総戸数
価格
間取り
部屋面積
建築年
設備
その他
| | |
| --- | --- |
| 物件名 | |
| 開発会社 | |
| エリア | |
| フロア | |
| 総面積 | |
| 総戸数 | |
| 価格 | |
| 間取り | |
| 部屋面積 | |
| 建築年 | |
| 設備 | |
| その他 | |
物件所在地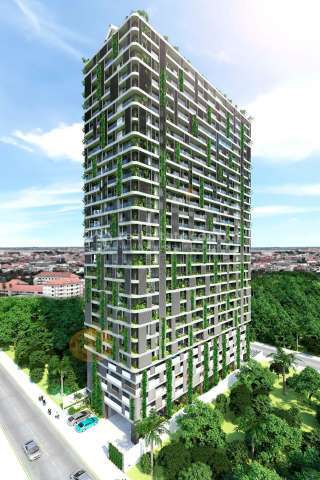 | | |
| --- | --- |
| ●賃料保証:6% | ●過去1年間の値上率:5~7% |
| ●予想利回り:7~7.5% | ●建設の進捗状況:35% |
| ●契約時に支払額:20% | ●完成予定:2022年 |
| ●販売済み比率:50% | |
所在地
 Boeung Kak 2, Toul Kork, Phnom Penh
Garden One
The Garden One is a 29-storey condominium located in Phnom Penh's fastest-growing residential community of Toul Kork District. It is home to 271 high-end dwellings in modern simplicity, which stretch on 5th-26th floor with types of unit from studio to two-bedroom. Apart from these units, ranging in sizes from 44 to 91 sqm, there are ultra-luxury apartments each with a massive floor area of ​​about 139 sqm sprawling across the whole 27th floor.
The building has a five-storey parking space spanning on B1 to the 4th floor, which is operated by an intelligent parking system, in which vehicles are carried by elevators to the parking spaces. The top of the building is capped by an open-air club hosting a fitness room, swimming pool and leisure area.
The Garden One is developed by JianZhong YuTong Co.,Ltd that care and pay the most attention on the needs of the residents. It has a good sense of design as an outcome of quality materials, elegant but not extravagant, and very practical. Each apartment unit is a turn-key home but not lack of potential for adjusting and adding to fit your personal style and taste. In fact, the main feature of Garden One is that the entire building is inlaid with green plants at almost every corner to create a world of natural vitality and affinity.
Garden One is set to be completed and handed over in December 2021.
Unit price starts from $80,000 or $1,800 per sqm. There are at least ten educational institutions, businesses and other facilities in the neighbourhood.
Rental fee for such apartments in the area ranges from US $ 800 to $1,000 per month for one-bedroom apartment and 1,000 to 1,500 per month for the two-bedroom unit. The investment return rate is from 8% to 10%. The developer of Garden One also offers overseas home buyers with 6% guaranteed rental return for 3 years.
購入可能ユニット